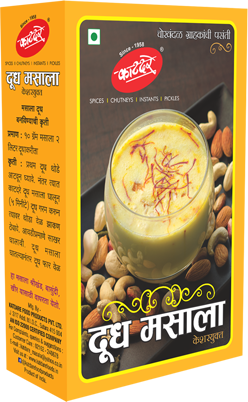 Katdare Milk Masala
Enjoy a tasty, healthy beverage with Katdare Milk masala. Just add to boiled milk and make a satisfying, delicious drink for family, friends, and guests. Used as a regular health drink or for serving guests, Katdare milk masala has all the ingredients to make your masala milk taste yummy always.
Shelf life: 4 months
Product Description
About Milk Masala Powder
Milk masala powder is made by dry roasting fragrant spices and dry fruits. These are cooled and ground to a powder which can be added to hot or cold milk to make a nice warm beverage for winters or a tasty cold milkshake in summers.
Why Buy Katdare Masala Doodh Powder?
Masala doodh is a great drink during winters as it keeps you warm. The spices and dry fruits in them have many health benefits. Masala doodh is a great bedtime beverage too.
Katdare masala doodh powder is made by dry roasting and grinding the finest, most aromatic spices and the best quality dry fruits. This ensures that you get a flavourful cup of a soothing drink every time.
Offers and Additional Information
Katdare masala doodh powder is available in packs of 50gm and 10gm costing Rs. 170 and Rs.35 respectively. Masala doodh is beneficial for health. It can be consumed as a simple beverage. Or the powder can also be added while making masala shrikhand, basundi, or kheer.
Once opened, store masala doodh powder in an airtight container. You can refrigerate it as well.
Katdare masala doodh powder does not contain any added colors or preservatives.
FAQ
FAQ's about Masala Doodh Powder

Is masala milk good for health?
Masala milk has numerous health benefits. It contains good nutrients like vitamins, proteins, and fiber. It has antioxidant properties and can aid in reducing cholesterol as well as blood sugar levels. Masala milk provides energy and keeps you satiated.
Can I make milk masala powder at home?
It is time-consuming to make masala powder at home as you have to dry roast the spices and dry fruits. So purchasing Katdare doodh masala online is easy to buy as well as store.

How much milk masala powder is required for a cup of milk?
The masala milk recipe calls for 2ltr of milk. Use one whole packet of milk masala (10 gms) mixed into 2 ltr milk and then distribute the beverage as per convenience.
Can Katdare milk masala be used to prepare kheer?
Yes. Katdare doodh masala powder can add great taste to the kheer.
Are dry fruits used in these milk masalas?
Yes. Dry fruits like cashews, almonds, and pistachio make this masala doodh powder healthier.
Ingradient
Masala Doodh Powder Ingredients
• Sugar
• Almond
• Cashew
• Pistachio
• Green cardamom
• Nutmeg
• Jaypatri
• Keshar
Recipe
Masala Dudh Recipe
Boil 2 liters of milk in a saucepan. Add 10gms of Katdare doodh masala powder to the milk and stir. After 5 minutes, switch off the heat. Cover the milk and let it stand for a while. Pour into a cup. You can add sugar if required. Garnish with a few strands of Kesar. This is optional. Enjoy a delicious cup of warm masala doodh.