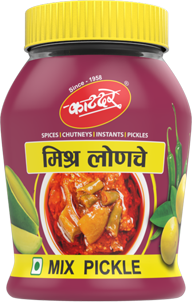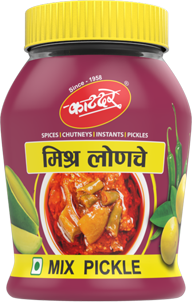 Katdare Mix Pickle (Achar)
Katdare Mix Pickle is a blend of various vegetables and spices mixed with a tangy and spicy mixture. It is made with carefully chosen fresh vegetables such as carrots, raw mango, lime, green chili, ginger, and garlic which are finely chopped and then mixed with an aromatic blend of spices to create a delicious pickle.
This mix pickle is a popular Indian condiment that adds a zesty, sour and spicy taste to any meal. It is a versatile accompaniment that goes well with various Indian dishes and snacks like parathas, sandwiches, samosas, and more. Katdare Mix Pickle is made using a traditional recipe, with no added preservatives, making it a healthy and delicious choice for all pickle lovers.
Before: Add Product Description
FAQ
Ingredients
Recipe
About Mixed Pickles (Mix Achar)
Mixed pickles are a combination of different pickled vegetables that are stored in a mixture of vinegar, salt, and various spices. The vegetables used in mix pickles can vary, but commonly include carrots, cauliflower, bell peppers, onions, and green beans. The spices used in the pickling process can also vary, but often include cumin, mustard seeds, coriander, and turmeric.
Many companies produce mixed pickles, each with their unique blend of vegetables and spices. Customers can find mixed pickles in stores or online in various sizes, ranging from small jars to larger containers.
Some popular brands of mix pickles include Patak's, Mother's Recipe, and Priya. They are commonly enjoyed as a side dish or condiment with a variety of foods, including sandwiches, burgers, and curries.
Why Buy Katdare Mixed Pickles Online?
Made with high-quality, fresh ingredients
Contains a unique blend of spices for a flavorful taste
Preserved in oil for a longer shelf life
Free from artificial colors, flavors, and preservatives
Handcrafted in small batches to ensure quality and consistency
Can be paired with a wide range of dishes to add a zing of flavor
Suitable for vegetarians and vegans.
FAQ's on Mixed Pickles
What is in mixed pickles?
Mixed pickles typically include a variety of vegetables like carrots, cauliflower, cucumbers, peppers, and sometimes fruits like mangoes, mixed together in a brine of vinegar, salt, and spices.
Which mixed pickle is best?
The taste and preference for mixed pickles can vary from person to person. It is best to try different types and brands of mixed pickles to find the one that you enjoy the most.
What do you eat mixed pickle with?
Mixed pickles can be enjoyed as a side dish or accompaniment to many Indian dishes such as rice, bread, and curry. They can also be used as a topping or garnish for sandwiches or burgers.
Is Indian mixed pickle healthy?
Mixed pickles can be a good source of fiber and probiotics, but they can also be high in sodium and added sugars. As with any food, it is important to consume mixed pickles in moderation as part of a balanced diet.
What is the price of mix veg pickle?
The price of mixed vegetable pickle can vary depending on the brand, size, and location.
Mixed Pickle Ingredients
Green Mango
Lemon
Green Chilli
Mixed Spices
Salt
Acetic Acid (E260)
Asafoetida (E610)
Chilli
Cotton Seeds oil
Class II preservative E260