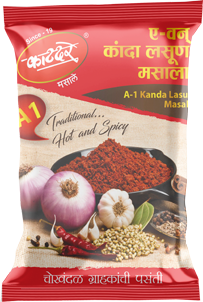 Katdare A1 Kanda lasun masala is a go-to ingredient for delicious Maharashtrian recipes. Onion and garlic blended with some of the finest spices lend an authentic taste to all your preparations. Available in an easy-to-use and easy-to-store form, this is the best kanda lasun masala in the market.

Shelf life: 4 months
Product Description
About Kanda Lasun Masala
Kanda lasun masala, used as an indispensable ingredient in Kolhapuri cuisine, is a quick and easy addition to gravy dishes, making them lip-smacking delicious. Buy Katdare A1 kanda lasun masala online and save time in the kitchen. No more roasting of spices and no more grinding hassles. Just add Katdare kanda lasun masala in the required quality for that instant taste enhancement.
Why Buy Katdare Kanda Lasun Masala Online?
Katdare A1 कांदा लसूण मसाला recipe includes various aromatic spices, roasted to perfection and ground along with onion and garlic. The masala contains no added colors or preservatives but enhances the taste of your dishes, whether you add it to dry vegetables or curries.

Offers and Additional Information
Katdare A1 Kanda lasun masala is available in easy-to-use, convenient packets of 1kg, 500gm, 200gm, and 100gm each. The masala has a shelf life of 4 months when stored in a cool and dry place.
FAQ
FAQ's on Kanda Lasun Masala
What is the price of Katdare kanda lasun masala?
Katdare A1 kanda lasun masala price is Rs.300 for 1kg, Rs.150 for 500gm, Rs.62 for 200gm, and Rs.32 for 100gm packets respectively.
How to use kanda lasun masala?
Just add Katdare A1 kanda lasun masala to your curries or dry vegetables during preparation, instead of using all raw spices separately. Kanda lasun masala can be used in a variety of dishes and is quite common in traditional Maharashtrian curries.

What recipes to make with Katdare Kanda Lasun Masala?
Katdare A1 kanda lasun masala can be used in various traditional Maharashtrian dishes like bharli vangi, bharli kaarli, usal, and veg or non-veg rassa.
Where to buy kanda lasun masala?
If you want to make your recipes taste yummy with less effort, your best choice is Katdare A1 kanda lasun masala. Buy online at katdarefoods.in and have it delivered to your doorstep.
Ingradient
Onion
Coriander
Common Salt
Garlic
Edible Oil
Ginger
Cumin
Dry Coconut
Mustard
Sesame
Asafoetida
Fenugreek
Turmeric
Recipe
Kanda Lasun Masala Recipes
Katdare A1 kanda lasun masala can be used in dry vegetables as well as for curries. Spicy mushroom kolhapuri is a tasty dish that is great with rotis or parathas. Here's the easy recipe below.
Clean and cut mushrooms to the required size. Dry roast grated dry coconut and let it cool. Shallow fry thinly sliced onions in some oil and let it cool too. Next, grind together the fried onion, roasted coconut, some ginger, some garlic, and some coriander to a smooth paste. Use a little water if required.
The कांदा लसूण मसाला curry recipe is then quite simple. Heat oil in a pan and add chopped onion. To this, add the ground coconut onion paste and mix well. Add turmeric powder, red chili powder, and Katdare A1 kanda lasun masala to this mixture and sauté well. Kanda lasun masala already contains salt so add more salt according to taste. Add some water and let the mixture cook till it comes to a boil.
Then add mushrooms and cook till they are soft. Garnish with coriander and serve with hot rotis. Switch mushrooms for another vegetable or meat and follow the same recipe for a different dish.