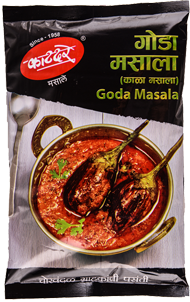 Ready to add a burst of authentic flavors to your dishes? Buy Katdare Goda Masala today and explore the rich heritage of Maharashtrian cuisine with every pinch of our Goda Masala
गोडा मसाला is a traditional, aromatic spice blend that is the signature of Maharashtrian cuisine. Various spices, individually roasted and then blended to a perfect consistency can be added to different dishes, giving them a punch of flavor.
Shelf Life: 6 Month
Product Description
About Goda Masala
Katdare Goda masala saves you the hassle of roasting and blending spices to make gravies or stuffed veggies. Just add this aromatic spice blend to your recipes and enjoy a sweet and spicy taste. This masala definitely adds a delicious flavor to daal, aamti, bharli vaangi, vaangi bhaat, masala bhaat, missal, usal, and many other Marathi specialties.

Goda Masala Uses
Add Katdare गोडा मसाला to recipes like masale bhaat, vaangi bhaat, vegetable rassa, missal, usal, bharli vaangi, bharli bhendi or bharli kaarli.
Why Buy Katdare Goda Masala Online?
Goda masala ingredients must be individually roasted till they are aromatic. They must then be cooled and blended to a slightly coarse powder. This requires time and effort.
Order Katdare goda masala online, which is delivered to your doorstep is much more convenient.
Offers and Additional Information
Katdare goda masala is available in 500gm, 200gm, 100gm or 50gm packs. The Goda masala price for each pack is Rs.200, Rs.82, Rs.42 and Rs.22 respectively. The shelf life of this spice blend is six months. You can comfortably store it in an air-tight jar after opening. Refrigeration is optional.
FAQ
FAQs About Goda Masala
What is Maharashtrian goda masala?
Maharashtrian goda masala is a spice blend that is largely used in recipes where a certain stuffing is made.
What is goda masala in English?
There is no exact equivalent name for Goda masala in English as the spices and ingredients that go into making this blend are Indian and less used in continental cuisines. But as 'Goda' literally translates to 'sweet', this can be called a sweet spice blend. Although the taste it gives is not just sweet but a mix of different flavors.
What is goda masala made of?
Katdare Goda masala recipe calls for numerous ingredients like Coriander, Sesame, Dry Coconut, Poppy Seeds, Niger Seeds, Edible Oil, Iodised Salt, Red Chilly, Naag keshar, Bay Leaf, Cinnamon, Clove, Black Pepper, Turmeric, Fenugreek, and Caraway seeds.
How to use goda masala?
Add goda masala to stuffing made for vegetables or in gravies and daals for a sweet, sour, and spicy mix of flavors.

Is goda masala and kala masala same?
No. There are certain ingredients that are different between the two masalas. Also, the spices used in Kala masala are roasted for slightly longer as compared to those roasted for making Goda masala.
Does goda masala contain onion garlic?
No. Katdare Goda masala contains no onion or garlic.
What is the difference between goda masala and garam masala?
Goda masala is quintessentially a spice blend used in Marathi cuisine while garam masala is used more in north Indian cuisine. A few ingredients in the two masalas differ as well.
Where will I get good goda masala?
Get the best quality, fresh, and hygienic Goda Masala in various quantities at our website.
Ingradient
Goda Masala Ingredients
Coriander
Sesame
Dry Coconut
Poppy Seeds
Niger Seeds
Edible Oil
Iodised Salt
Red Chilly
Cinnamon
Clove
Turmeric
Recipe
What Recipes Can Be Made with Goda Masala?
Stuffed brinjal, masala bhaat (Maharashtrian spiced rice), vegetables, daal, and many other dishes can be made with Goda masala. Some recipes call for jaggery in combination with goda masala.