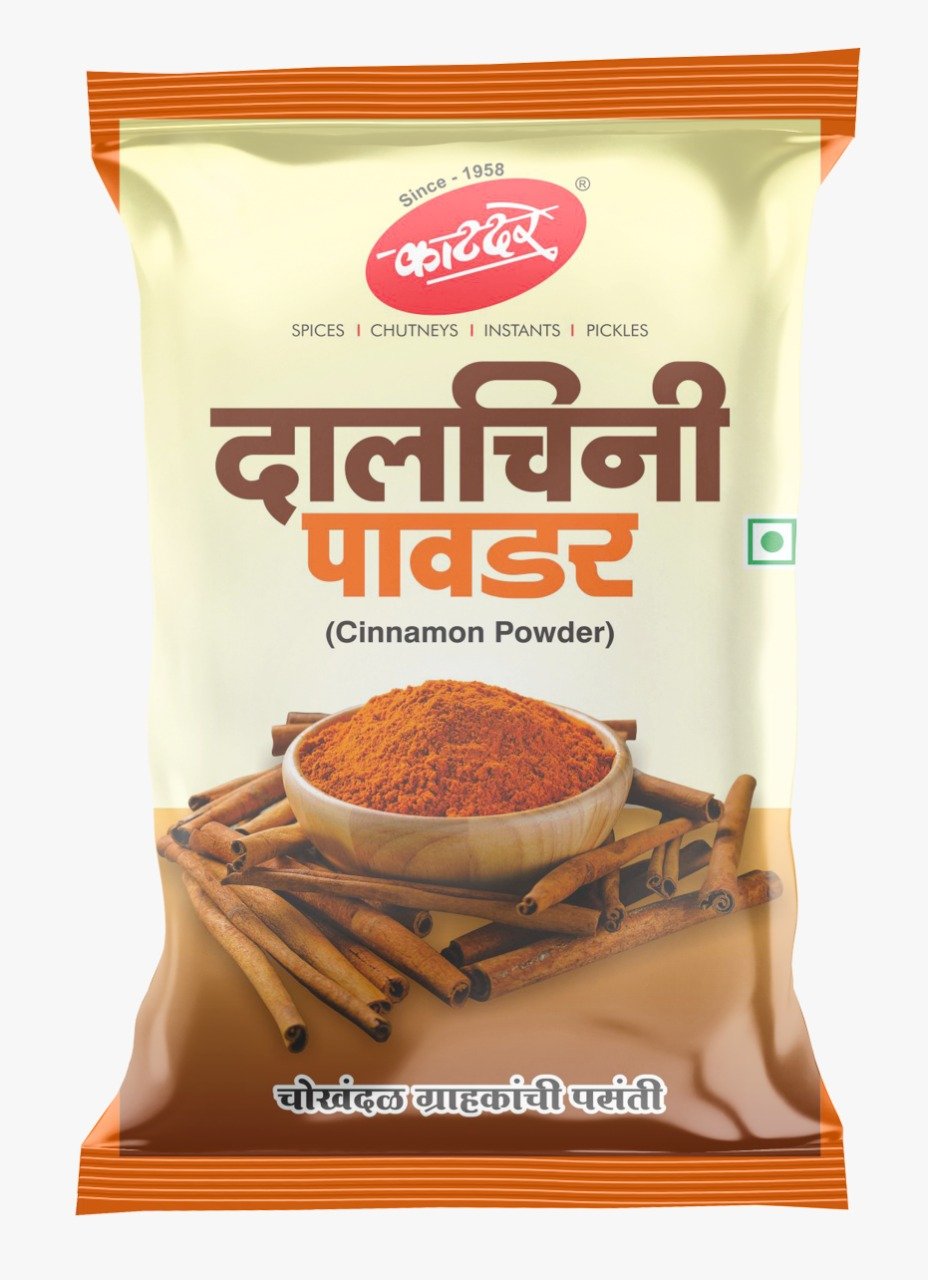 Katdare Dalchini Powder
Katdare dalchini powder is a flavourful spice with great health benefits. Add dalchini powder to your gravies, vegetables, or beverages such as hot chocolate, masala chai, and detox drinks to enjoy delicious aromatic, sweet and spicy tastes
Shelf Life: 6 months
Product Description
About Dalchini Powder
Cinnamon is an important spice in Indian cuisine. It has a sweet but pungent taste & aroma. It is used in rice preparations such as Pulav and Biryanis, Sabji, curries, and gravy dishes. It is also used in bakery items like cakes, puddings, biscuits, and desserts for its rich and warm flavor. Dalchini ka powder (as it is known in Hindi), is also an essential ingredient for masala tea.
Apart from culinary uses, dalchini powder has numerous medicinal uses as well and is present in various Ayurveda medicines.
Dalchini Powder Benefits
Dalchini has anti-inflammatory properties. It is also known to regulate blood sugar levels. It boosts the immune system and reduces the likelihood of bacterial infections in the body. Dalchini improves metabolism and many health drinks also use dalchini as a detox ingredient.
Dalchini is a warm spice and hence, often used in foods and beverages prepared in winter- not just for its properties but for its wonderful flavor too.
Dalchini is also found in skin products and face packs as it is known to reduce inflammation and blemishes.
Why Buy Katdare Dalchini Powder Online?
Dalchini is a spice that comes from the bark of the cinnamon tree. It can be used in stick form also but dalchini powder is easier to use, blend and mix into food items and drinks.
Katdare Dalchini powder is made from high-quality pure dalchini that is properly cleaned and blended to give you a fine, aromatic powder; perfect for various uses. The product contains no additives or color.
Offers and Additional Information
Katdare dalchini powder price is a mere Rs.20 for a 20gm packet.
The product has a shelf life of 6 months and can be easily stored in a container, in a cool, dry place once opened.
FAQ
FAQ's About Dalchini Powder
Can I make dalchini powder at home?
Yes, you can make dalchini powder at home by putting cinnamon sticks into a high-speed electric blender. But cinnamon sticks can be very tough sometimes. So, it is more convenient to purchase readymade dalchini powder online.
Is Dalchini powder good for health?
Dalchini powder is immensely beneficial for health. Owing to its anti-inflammatory, anti-aging and medicinal properties, dalchini powder is a popular spice in Indian households.
When should I take dalchini powder?
Dalchini powder can be consumed in different dishes or beverages at any time of the day. It is especially beneficial in winter.
How to take dalchini powder for weight loss?
Dalchini powder improves digestion and metabolism. You can consume a little cinnamon powder in a glass of water once or twice a day. Adding lemon and honey to this mixture can further improve taste and benefit the body.
What is the difference between Dalchini and cinnamon?
Dalchini and Cinnamon are the same spice. Cinnamon is called Dalchini in Hindi and Marathi.
How much cinnamon powder is OK daily?
Half to one teaspoon of cinnamon powder can be safely consumed daily.
Ingradient
Dalchini Powder Ingredients
• Dalchini