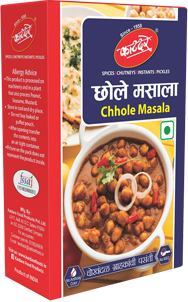 Katdare Chole(Chana) Masala
Katdare's Chole Masala is a blend of spices that helps in making delicious chana masala, a popular Indian dish made with chickpeas. Made with the finest quality of spices, this chana masala powder is a perfect blend of aroma and flavor that adds a unique taste to your dish. It is made with ingredients like coriander, cumin, chili powder, turmeric, fennel seeds, cinnamon, cardamom, and black pepper which gives a traditional Punjabi touch to the recipe. Katdare's Chole Masala is ideal for both home cooking and catering purposes, and it comes in convenient packaging that ensures its freshness and aroma for a long time.
Product Description
About Chole (Chana) Masala
Chole masala, also known as chana masala, is a popular Indian dish made with chickpeas cooked in spiced tomato-onion gravy. It is a staple in North Indian cuisine and is commonly served with bhatura or puri. Chole masala is a vegan and gluten-free dish and is rich in protein and fiber.
Why Buy Katdare Chole Masala Online?
A unique blend of hand-picked spices
Made with high-quality ingredients
No artificial colors, flavors, or preservatives
Enhances the taste and aroma
Adds a rich and savory flavor to curries
Easy to use and saves cooking time
FAQ
FAQ's on Chole(Chana) Masala Powder
What is chana masala powder?
Chana masala powder is a blend of spices used to flavor the popular Indian dish Chana Masala, made with chickpeas (chana). The powder contains a mix of spices like cumin, coriander, turmeric, chili powder, and other aromatic spices.
Is garam masala and chana masala the same?
No, garam masala and chana masala are not the same. Garam masala is a spice blend made with cinnamon, cardamom, cloves, cumin, and other spices. It is usually added towards the end of cooking to enhance the flavor. Chana masala powder, on the other hand, is a specific blend of spices used to make chana masala dish.
Can I use Pav Bhaji masala instead of chole masala?
Although pav bhaji masala and chole masala powder share a few common spices, they have different flavor profiles. It is best to use chole masala powder for chana masala to get the authentic taste.
Why is chana masala healthy?
Chana (chickpeas) is an excellent source of protein, fiber, and essential vitamins and minerals. Additionally, the spices used in chana masala powder have anti-inflammatory and digestive benefits, making it a healthy and nutritious dish.
Which is the best chole masala powder?
The best chole masala powder is one that has a balanced blend of spices and is of good quality. Katdare's chole masala powder is made with premium quality ingredients and has a unique blend of spices that enhances the flavor of the dish.
Ingradient
Chole Masala Powder Ingredients
Whole Coriander Seeds
Cumin Seeds
Red Chilli Powder
Turmeric Powder
Black Cardamom
Black Pepper
Cloves
Dry Fenugreek Leaves
Green Cardamom
Salt
Recipe
Chole Masala Recipe: How to Use Our Chana Masala Powder?
Here is how to use Katdare chole masala to make delicious chana masala:
Ingredients:
2 cups chickpeas (soaked overnight)
2 tbsp oil
1 onion, chopped
2 tomatoes, chopped
2 green chillies, slit
1 tsp ginger-garlic paste
1 tsp Katdare chole masala powder
1 tsp red chilli powder
1 tsp cumin powder
1 tsp coriander powder
Salt to taste
Water as required
Coriander leaves for garnishing
Instructions:
Drain the soaked chickpeas and rinse them well. Boil the chickpeas with enough water and salt until they are soft and cooked well. Drain and set aside.
Heat oil in a pan, add chopped onions, and sauté until they turn translucent.
Add the chopped tomatoes and green chillies, ginger-garlic paste, and sauté until the tomatoes turn soft.
Add Katdare chole masala powder, red chilli powder, cumin powder, coriander powder, and salt. Mix well and sauté for 1-2 minutes.
Add boiled chickpeas and mix well with the masala. Add water as required to make the gravy.
Cover and let it cook for 10-12 minutes on medium heat.
Once the gravy is thick and chickpeas are coated well, turn off the heat.
Garnish with coriander leaves and serve hot with roti, naan, or rice.
Enjoy the delicious chana masala made with Katdare chole masala powder!