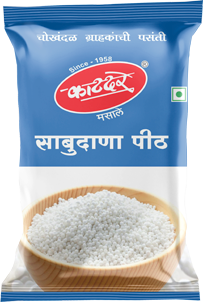 Buy sabudana peeth or as it is locally known, from Katdare Foods to get the freshest, all-natural, and local sabudana flour for your dietary needs.
order साबुदाणा पीठ from KatdareFoods today. It is finely ground and contains no whole grains. It is also ground in a sterile and fast-compliant facility using methods that preserve its natural taste and nutrients.
Shelf life: 4 months
Product Description
About Sabudana Powder (Sabudana Atta)
Sago is a common pantry ingredient in India thanks to its ready availability and easy acceptance in religious fasts. Sabudana atta or sabudana powder is the ground form of an edible starch, that's extracted from tropical palm trees.
Apart from being a popular upwas peeth, sago flour is also popular amongst people who watch their diets, thanks to the numerous health benefits associated with it. Additionally, sabudana powder also wins hearts with its versatility, since it can me made into several things ranging from khichdi and kheers to pancakes and fried snacks.
Sago flour is also completely gluten-free and hence is a great wheat substitute for those suffering from gluten intolerance.
Apart from its use during fasting, sago flour is also used in baking and as a thickening and binding agent while cooking. Sabudana or sago flour is gluten-free but high in calories and low in proteins and fiber. In other words, it is exceptionally good if you are trying to gain weight. Sago powder is pure carbs and hence it is good for building essential fat tissues to protect internal organs in the body and ensure lipid distribution in those struggling with abnormally low weight.
For fitness enthusiasts too, sabudana works as a great pre-workout meal as it helps improve performance. For athletes, it can provide and instant burst of energy and improve recovery speeds. Sabudana also helps prevent constipation and promotes good digestive health.
Benefits of साबुदाणा पीठ
There are several health benefits to consuming Katdare's sabudana atta. And they are:
The atta is versatile and can be used to make a variety of dishes
It is gluten-free
It helps in weight gain
It is a great pregnancy food
It helps relieve indigestion and improves gut health
It is fast-compliant
It is pure carbs and thus helps in providing instant energy to athletes
It can be used as a thickening or binding agent
FAQ
FAQ's on Sabudana Powder
1. What is sabudana powder?
Sabudana powder is simply the ground, powdered form of sabudana. Sabudana is also known as sago, and it is an edible starch extracted from tropical palm trees.
2. What can be made from sabudana flour?
Sabudana flour is very versatile. It is an excellent thickening and binding agent. But even on its own it can be made into thaalipeeths, puris, dosas, fried snacks and more.
3. What is the difference between sago flour and tapioca flour?
Both sago and tapioca are similar in the sense that both are gluten-free and vegetarian. The main difference between the two is simply their original. While tapioca is derived from the cassava root native to northern and central-west Brazil, sago is derives from the starch of certain tropical palm trees, obviously making it a tropical food.
4. Can I make sabudana flour at home?
You can definitely make sabudana flour at home but you will need a powerful grinder or home-chakki machine. Considering the hassle though, it is far easier and cheaper to get pure sabudana flour from trusted suppliers such as Katdare Foods.
Ingradient
Ingredients
100% natural, locally sourced sabudana (sago)
Recipe
What Recipes You Can Make with Katdare Sabudana Flour?
Katdare sabunana flour is very versatile in use. It can be used to make thaalipeeths, puris, fried snacks, dosas and more.
One of the easiest, tastiest recipes is sago flour puris, which can be made in under 30 minutes. All you need is ¼ cup sago flour, ½ cup all-purpose flour, ½ teaspoon coriander powder, ½ cup pureed spinach, ¼ cup asafoetida, 1 finely chopped green chilli, ½ cup red chili powder, water, salt and oil for deep frying. Just mix all the ingredients together and bind into a thick dough using the water. Set aside for 10 minutes. Then roll the dough into small puris and deep fry till cooked. Serve hot with a chutney of choice.
Why Katdare Sabudana Atta?
Why buy Katdare sabudana peeth? There are several reasons, the main being:
It is 100% vegetarian and made in a fast-compliant facility
It is free of preservatives
The atta is all natural and the sabudana is locally sourced