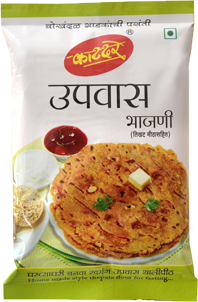 Upwasala chalanari chavishta bhajani'' or to translate in English, Katdare's special upwas bhajani, a tasty flour mix made especially for the days you fast. Fasting days are an important part of our culture in India and indeed we take them very seriously. And fasting in Maharashtra or even in India for that matter is a serious business where certain foods are avoided at all costs and only limited food ingredients are allowed for consumption.
Katdare's special upwas bhajani is a flour mix made especially for those fasting days and it includes ingredients that are allowed for consumption during fasts, such as sabudana (sago), rajgira (amaranth), and others.
Buy upwas bhajani online and get yourself an instant upwas bhajani that you can trust.

SHELF LIFE: 6 Months
Product Description
About Upwas Bhajani
Fasting is a serious business and not many who fast are lax about its rules and regulations. Almost every fast has tacit rules regarding what can be eaten and what isn't allowed. Katdare Foods, being an authentic Indian company, is well aware of these rules and the implications of not adhering to them. Hence, Katdare's upwas bhajani is handled with special care. Its ingredients are carefully chosen and it is made in sterile, fast-compliant conditions so that you can rest assured that your instant upwas bhajani is exactly as how you'd make it in your own home.
Katdare's upvasachi bhajani is not only 100 percent vegetarian but is also strictly without additives such as artificial colours, flavours, and even preservatives. No matter the occasion for your fast (upwas or vrat), this bhajani is compliant with your fasting rules. Since it is a ready-made flour mix that already contains salt and spices, it is an easy and convenient option for busy homemakers looking for quick meals for themselves and their families while they fast.
So buy upwas bhajani online from Katdare's website or pick it up at your local physical outlet, but do give it a try. Our bhajani is just as trustworthy as it is tasty.
Why Buy Katdare Upwas Bhajani?
Get Katdare upwas bhajani for your upwas meals because you can be assured that this bhajani is made using upwas-compliant ingredients and is strictly vegetarian.
All individual ingredients that makeup Katdare upwas bhajani are fresh and sourced locally.
From production to packaging, Katdare ensures the sanctity of the ingredients as well as the final product.
The upwas bhajani is delicious. Lots of research has ensured that its ingredients are included in such proportions as to give the bhajani its best taste.
FAQ
FAQs on Upwas Bhajani
What does upwas bhajani mean in English?
Literally translated, upwas means fast. Bhajani is a Marathi word for a special flour made with a variety of ingredients rather than a single one. Usually, bhajani is made with a flour mix of millet, rice, pulses, and lentils. But upwas bhajani is made with a mix of ingredients that are upwas compliant, like sago (sabudana), rajgira (amaranth), and others. You can also check out our Upwas Peeth category for more products.
What are the main ingredients in Kartdare upwas bhajani?
Katdare upwas bhajani is a flour mixture containing sabudana (sago), rajgira (amaranth), cumin seeds, chili powder, and iodized salt.
Ingradient
Katdare Upwas Ingredients & Features
100% compliant with the rules of your fasts
100% Vegetarian
Ingredients: Sago, amaranth, cumin, chili powder, and salt.
Free from artificial colors, flavors, and preservatives
Shelf life of 6 months
Store in a cool, dry place
Suitable for consumption during all kinds of fasts and vratsr4
Pre-seasoned and pre-spiced
Read-to-cook premixed flour
Versatile in use. Can be used to make puris, theplas, wadas and even thalipeeths
Health Benefits of Upwas Bhajani
There are numerous health benefits to consuming upwas bhajani during fasts and they are:
Upwas ingredients are always light on the stomach and easy to digest
Upwas bhajani ingredients pack in a lot of macro and micronutrients essential to the body.
For example, rajgira flour (amaranth flour) is rich in proteins and dietary fiber. It is also rich in iron.
Peanuts are high in Vitamins such as B1 and pack in a generous amount of protein too. They are rich in high-density cholesterol or good cholesterol as well.
Spices and herbs contain different nutrients. For example, kothimbir (kothmir or dhania or coriander) contains vitamins, iron, folate, and several types of antioxidants.
Though upwas bhajani is high in carbohydrates, it is by far a healthier option than other standard snacks when consumed in moderate proportions.
Recipe
Easy Katdare Upwas Bhajani Recipes
Other than sabudana khichadi and sabudana wada, possibly the yummiest upwas food (and easy to make) is the upwas bhajani thalipeeth. It is happy, tasty, healthy (just under 150 calories per thalipeeth), and super easy to make, what more could one want?
To make the Maharashtrian upwas bhajani thalipeeth you need:
2 cups Katdare upwas bhajani flour mix
1 large grated boiled potato
1 small bowl of coarsely crushed, roasted peanuts
1 small bowl of finely chopped coriander
1 small bowl of finely chopped green chilies
Salt to taste
Ghee (or oil) for shallow frying
Mix all the ingredients together and make a dough of roti-dough consistency with some water. Make equal-sized round balls from this dough and flatten them out on a banana leak or butter paper. In a shallow pan heat some ghee/oil. Shallow fry these flattened thalipeeths till there are thoroughly cooked. Serve with cucumber raita or dahi (plain yogurt).