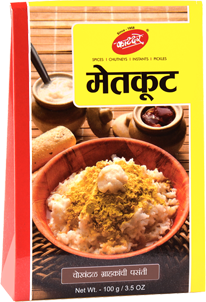 Katdare Metkut Powder
Metkut is a traditional Maharashtrian recipe. This is a perfect side dish especially when you are unwell or weak. Katdare Foods provide delicious and tasty metkut at the best price. Always have Katdare Metkut Powder at hand to add a dash of taste and nutrition to rice. Get an easy, quick, and fulfilling meal in minutes. Make your plain rice or roti taste delicious with Metkut powder.
Shelf life: 4 months

Product Description
About Metkut Powder
A traditional Maharashtrian side dish, Metkut powder is a nutritious addition to your meals, making them healthy and tasty. Metkut is a mixture of blended pulses and spices that are light on the stomach. Metkut is mostly added to turn plain rice into a yummy, wholesome meal. As it is full of useful nutrients, it is recommended for people when they are unwell or want to regain strength. It also brings some taste to the palette.
Why Buy Katdare Metkut Powder Online?
The freshest, best quality pulses and spices go into making metkut powder. Buy online and store at home for easy use. It contains no added colors or flavors and comes in convenient, hygienic packaging.
FAQ
FAQs On Metkut Powder
What is Metkut powder?
Metkut recipe is a blend of roasted dals and spices. It is high in iron and folate, it is a good source of dietary fibre and proteins. It is low in calories which makes it even healthier.
How to use Metkut powder?
Add it to rice along with ghee. You can also mix metkut powder with curd and have it as an accompaniment to rotis. Use it as a topping on salads, upma, or khichdi as well.
Is Metkut good for health?
Metkut is a great source of dietary fiber and hence can ease constipation. Patients who have a lot of dietary restrictions can rely on metkut powder to provide nutrition. It is rich in magnesium and vitamin A. It provides a good amount of protein. It is good for bones and muscles and has anti-oxidant properties.

Ingradient
Metkut Powder Ingredients
• Rice
• Black gram
• Bengal gram
• Green gram
• Asafoetida
• Wheat
• Common Salt
• Cumin
• Coriander
• Red Chilly
• Dry Ginger
Recipe
Recipes to make using Metkut Powder
Metkut powder recipes come in a variety of forms. This is a versatile powder that goes well with many types of meals. The most common use for metkut powder is on rice along with ghee. But it can also be mixed with curd or with oil and had with rotis.
One can also add it to salads, or as a topping on Maharashtrian breakfast items like Upma.