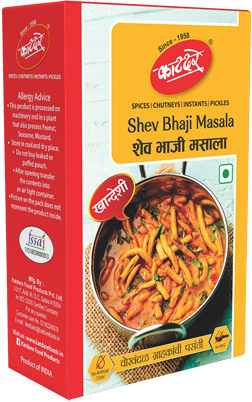 Katdare Shev Bhaji Masala
Katdare Shev Bhaji Masala is a spice mix made by the brand Sawai Foods, used to prepare the popular Khandeshi dish called Shev Bhaji. This spice mix contains a blend of various spices and herbs to enhance the flavor and taste of the dish. It is a convenient product with no added preservatives or colors and is available in 25g pouches. It is commonly used in the Indian state of Maharashtra and is known for its traditional taste and quality.
Product Description
About Shev Bhaji Masala
Shev Bhaji masala is a blend of spices and herbs used to prepare the popular Indian dish called Shev Bhaji, originating from the Khandesh region of Maharashtra. It is typically made with a combination of spices such as cumin, coriander, red chili, turmeric, mustard seeds, and other ingredients. The masala mix is available in small pouches and is a convenient option for those who want to make the dish quickly and easily. It is typically sold by multiple brands, such as Sawai Foods, Prakash Masala, and PKM Foods, with each brand offering their own unique blend of spices. Most of these brands claim to use natural ingredients without added preservatives or colors to ensure traditional taste and quality.

Why Buy Katdare Shev Bhaji Masala Online?
Some possible Unique Selling Points (USPs) of Katdare's Shev Bhaji Masala are:
Authentic taste: The masala is made with a blend of traditional spices and ingredients, resulting in a flavor that is authentic to the Indian cuisine.
Convenient and easy to use: The masala comes in a ready-to-use form, eliminating the need to grind and mix individual spices, making the cooking process quicker and easier.
No added preservatives or artificial colors: The masala is free from harmful preservatives and artificial colors, making it a healthier option for consumers.
Versatile: The masala can be used to make not only Shev Bhaji, but a variety of other dishes as well, making it a versatile ingredient in the kitchen.
Trusted brand: Katdare is a well-known and trusted brand in the spice industry, ensuring the quality and authenticity of the product.

Ingradient
Shev Bhaji Masala Powder Ingredients
Poppy seeds
Garlic powder
Salt
Asafoetida
Note: This is a generic list of ingredients that Shev Bhaji Masala may contain. The exact ingredients may vary depending on the brand and recipe

Recipe
Shev Bhaji Masala Recipe: How to Use Our Masala?
Ingredients:
1 onion, chopped
2 tomatoes, chopped
1 cup of shev (small sev)
1 tbsp of Shev Bhaji Masala
1 tsp of ginger-garlic paste
1 tsp of sugar
Salt, to taste
2 tbsp of oil
1 cup of water
Coriander leaves, for garnish
Instructions:
Heat oil in a pan and add chopped onions. Fry until they turn golden brown.
Heat and fry dry coconut powder till brown.
Add the ginger-garlic paste and fry for a minute.
Add chopped tomatoes and cook until they turn soft and mushy.
Add the katdare Shev Bhaji Masala and katdare byadgi mirchi powder and cook for 2-3 minutes, stirring continuously.
Add 4 cups of water and 1 tablespoon salt and bring the mixture to a boil.
Reduce heat and let the mixture simmer for 5-7 minutes or until the oil separates from the masala.
Add shev (sev) and mix well.
Cook for a minute or until the shev is well coated with the masala.
Garnish with coriander leaves and serve hot with Roti or rice.