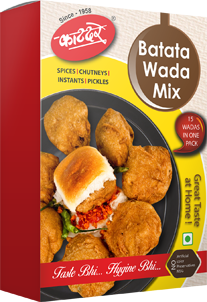 Katdare Batata Wada Mix
Katdare batata wada mix makes it easy to prepare tasty batata vada quickly. Batata wada, also known as Aloo Bonda in certain regions, is the quintessential Indian snack in almost every household. Don't fret if you don't know the exact proportion of spices. Katdare vada masala is the perfect blend of the necessary spices in just the right amounts. Use Katdare batata wada mix and enjoy potato fritters as they are or in a Vada pav.
Shelf life: 6 months
Product Description
About Batata Vada Masala
Katdare batata vada masala is a delicious combination of different spices and condiments. Katdare batata wada mix contains a spice paste and a batter mix. Add the spice mix to boiled, mashed potatoes and your filling is ready instantly. Add the batter mix to your besan and you have the batter in a jiffy. Once you have both the filling and the coating right, your batata wadas turn out consistently delicious no matter how many times you make them.
Why Katdare Batata Vada Masala?
Katdare batata vada has fresh, local, aromatic ingredients used in the traditional Maharashtrian recipe of batata vada. These ingredients are mixed carefully in the right proportions so that you do not even need to add salt to the potato filling or the batter while preparing vadas.
The vada mix contains a masala paste and a batter mix ensuring that anybody making potato fritters can complete the 2-step recipe without any additional ingredients or spices. All you need is potatoes, gram flour, and some water. Katdare batata wada mix takes care of the rest.

Offers and Additional Information
The ingredient list for Katdare's batata wada mix is free of any artificial chemicals, preservatives, or food colors. The mix has a shelf life of six months and it can be stored in an airtight container and refrigerated after opening. But, as it comes in a convenient pack of 65gms it can be entirely used in one go for half a kilo of potato filling, eliminating the need for storage.
For an authentic Maharashtrian snacking experience, serve the batata vadas with Katdare vada pav chutney and Katdare groundnut chutney.
Ingradient
Ingredients - Masala paste
Green chilli
Garlic
Palm oil
Iodised common salt
Onion
Ginger
Turmeric
Mustard
Curry leaves
Asafoetida
Ingredients- Batter mix
Lodised common salt
Baking soda
Recipe
Batata Vada Masala Recipes
Batata vada is a traditional Maharashtrian snack that has a 2-step recipe.
First, boil and mash 500gm potatoes. Add the entire packet of Katdare batata vada masala paste and mix it well to create the vada filling. You can shape this filling with your palms to form small round balls.
Next, create the batter to dip the vadas in, by adding the whole packet of Katdare batata vada batter mix to 100gm gram flour (besan). Add one cup of water to this, a little at a time, and mix well. Your batter is ready.
Dip each vada into the batter and make sure it is coated well. Remove excess batter and deep fry the batata vada in hot oil on medium heat for four to five minutes till it is golden and crisp on the outside. Your quick and easy batata vada is ready.