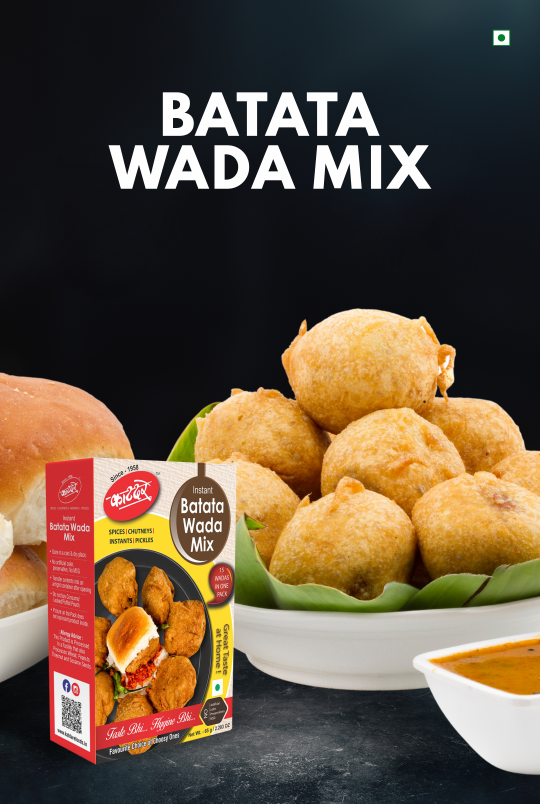 Katdare Vada Pav Chutney
Katdare vada pav chutney is a coarse, dry chutney made with groundnuts, garlic, coconut, and ground spices. This is an indispensable accompaniment to the popular Maharashtrian street food- the humble Vada pav. Spicy, nutty, tangy, and sweet, Katdare Vada Pav chutney packs a punch of flavor making wada pav even tastier.

Shelf life: 4 months
Before: Add Product Description
FAQ
Ingredients
Recipe
About Vada Pav Dry Chutney
Vada pav chutney is a taste enhancer that often accompanies snacks and fried food such as Vada pav, samosa, or pakoras. But as it is always served with vada pav and is red in color, it is also called vada pav red chutney. The hot, spicy, sweet, and salty taste of the chutney makes it an accompaniment that can go well with many food items. Katdare vada pav dry chutney is perfect with a hot homemade wada pav on a rainy day.

Why Buy Katdare Vada Pav Chutney Online?
Dry roasting and grinding ingredients are time-consuming. Katdare vada pav chutney gives you instantly blended chutney with all the spices in just the right amounts, ensuring the authentic taste and fresh flavour.
Offers and Additional Information
Katdare vada pav chutney is available in an easy-to-use 50gm packet. The chutney has a shelf life of four months. It includes no artificial colors, flavors, or preservatives.
FAQs On Vada Pav Chutney
Can I make vada pav chutney at home?
Yes, vada pav chutney can be made at home but Katdare vada pav chutney is available in convenient, easy-to-store, hygienic packaging that is an easy purchase.
How to make vada pav chutney?
Vada pav chutney requires roasting and grinding of ingredients like coconut, groundnuts, garlic, and some spices. Katdare offers instant vada pav chutney that you can buy online.
Where can I buy Katdare vada pav dry chutney near me?
You can buy Katdare vada pav chutney online from our website.
Vada Pav Chutney Ingredients
• Dry Coconut
• Garlic
• Red Chilly
• Common Salt
• Bread Crumbs
• Roasted Bengal gram
• Sugar
• Ground Nut
Vada Pav Chutney Recipe
Spread Katdare Vada pav chutney inside the pav and place the wada in it for a yummy, spicy taste. You can use the dry chutney for roti rolls or for paratha along with ghee, butter, curd or oil. It also adds flavour to khakra, samosa, pakora, and other snacks.