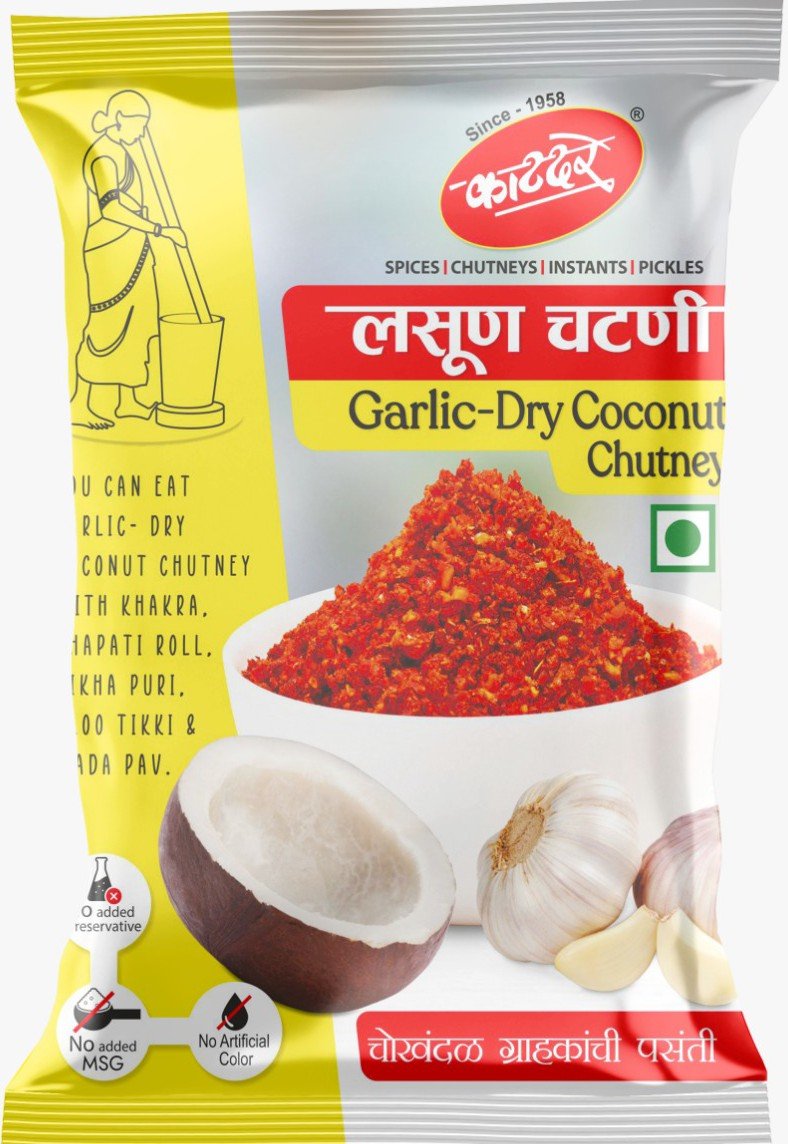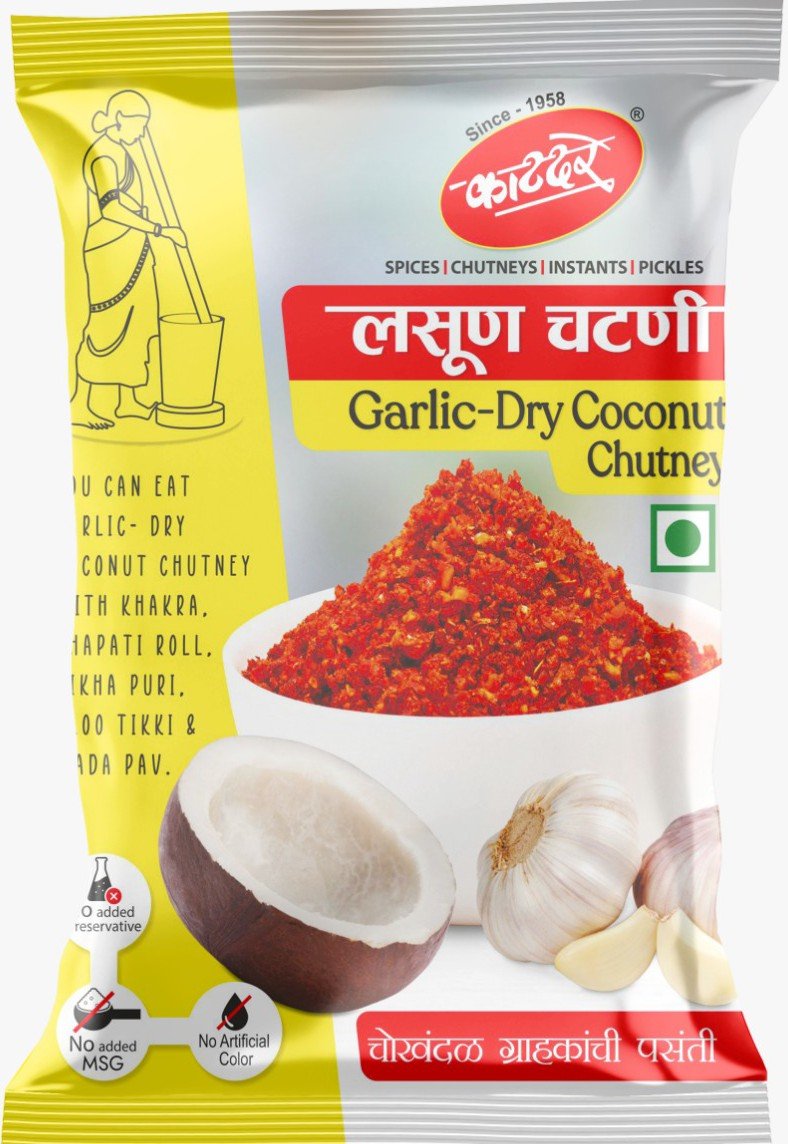 Katdare Lasun Chutney
Garlic dry coconut chutney is a staple accompaniment to meals in Maharashtra as well as in other regions of India. This spicy, zingy chutney packs a punch and adds a lot of flavor to all your dishes. Traditionally, lasun chatni is often consumed with bhakri, but it goes perfectly with various preparations.
Shelf life: 4 months
Before: Add Product Description
FAQ
Ingredients
Recipe
About Lasun Chutney (Garlic Dry Coconut Chutney)
Coconut is an important ingredient in Maharashtrian cooking. Combining it with garlic and red chillies creates a powerful, zesty, mouthwatering chutney. While some garlic chutneys are in the form of a thick paste, Katdare Lasun chutney is the traditional dry chutney made from just four ingredients.
Why Buy Katdare Lasun Chatni?
Katdare lasun khobra chutney is made from fresh, aromatic ingredients following a traditional recipe to maintain the original taste. The lasun chutney uses the best quality copra (dry coconut) and fiery red chillies that give the chutney its superb colour and taste. All ingredients are coarsely ground for the perfect consistency. It does not contain any added sugar, food colors, or preservatives. Katdare brings clean and healthy food to your table.
Offers and Additional Information
Katdare Lasun chutney is available in a variety of quantities. You can purchase packets of 200gm, 100gm, or 50gm based on your requirements. It has a shelf life of 4 months and can be stored in a cool, dry place after opening. It does not need any refrigeration.
Garlic has multiple health benefits. It is largely used in cooking owing to its anti-inflammatory and antioxidant properties. It is a natural medicine against cough and cold. It lowers blood pressure, and cholesterol and reduces the risk of stroke. It is also good for the stomach. So, many households include lasun chutney in daily meals.
Lasun Chutney Ingredients
• Dry Coconut
• Garlic
• Red Chilly
• Salt
Lasun Chutney Recipe
Simply eating Katdare lasun chutney with a jowar, bajra or rice bhakri would taste absolutely delicious. But this chutney can be used in so many ways and is a great addition to numerous dishes.
Spread it over buttered roti, paratha, khakra or bread for a tasty, piquant meal on the go. These combos are great for office lunches or even for kids' tiffins. You can also add some oil or curd to Katdare lasun chutney to make a yummy dip that can be used for wada pavs or over chaat.
Sprinkling the lasun chutney over steamed rice with ghee can really work as comfort food. This chutney is a tasty accompaniment for idlis and dosas as well.