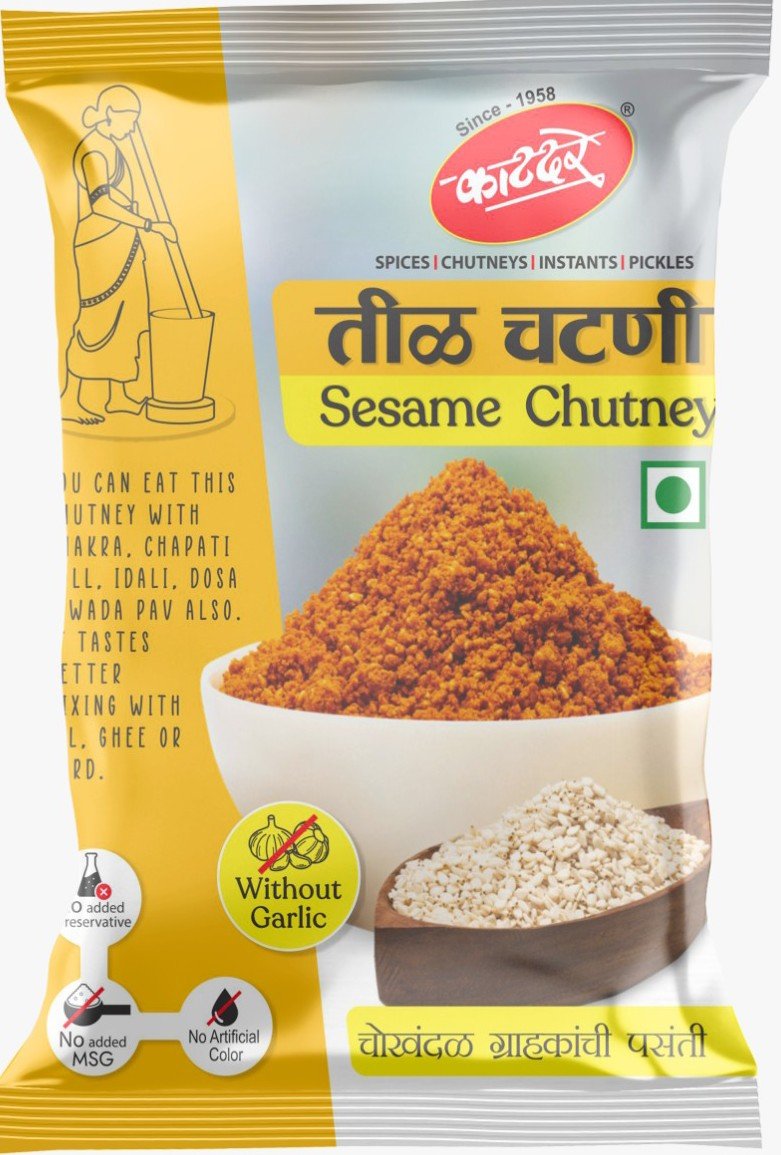 Katdare teel chutney is a universal side dish that can go with rotis, parathas, rice, wada pav, idli, dosa or khakra. Give a zing to your main course with this nutty, crunchy sesame chutney made from fresh ingredients.
Nutrient-rich goodness: Teel, or sesame, is known for its nutritional value. Our chutney is a powerhouse of essential nutrients, including calcium, iron, and healthy fats.
Versatile and Delicious: Use it as a dip, spread, or flavor enhancer for your favorite dishes. It complements snacks, bread, rice, and more.
Pure and Natural: We take pride in crafting our Til Chutney from the finest natural ingredients, without any artificial additives.
Convenient Ordering: Ready to transform your dining experience? Order तीळ चटणी and add a dash of flavor to your daily meals.
Don't miss the chance to elevate your culinary journey with our Teel Chutney. Buy Teel chutney online and experience the perfect blend of taste and nutrition in every bite.
Shelf Life: 4 Month
Product Description
About Til (Sesame) Chutney
Til chutney is quite a staple accompaniment in Maharashtrian cuisine, but it is also popular in the north as Til ki chutney and in the South as Ellu chutney. Katdare til chutney contains no onion or garlic and so, can be consumed by everybody. This chutney is flavourful, nutritious, and easy to use with all dishes.
Why Buy Katdare Til Chutney?
Sesame seeds are high in fiber and a great plant-based protein source. Dry til chutney is made from roasted sesame seeds and is not fried in any way. Sesame contains dietary fiber, and vitamins A, B, C, and E. It is very high in calcium, iron, magnesium, zinc, and phosphorus; all essential minerals for the body. Magnesium can help reduce blood pressure. Calcium can boost bone health. Consuming sesame is good for the body, especially in winter. So adding Katdare til chutney to your diet is certainly beneficial.

Offers and Additional Information
Katdare teel chutney comes in a convenient 100gm packet, with a shelf life of 4 months. The chutney can be stored in a cool, dry place after opening. It needs no refrigeration. Katdare teel chutney is made from white sesame seeds. It must not be confused with another type of til chutney made out of black sesame seeds. That is known as black til chutney or black til ki chutney in certain regions of India.
FAQ
Frequently Asked Questions
What is Teel Chutney?
Teel Chutney is a flavorful condiment made from roasted sesame seeds, blended with a mix of spices and natural ingredients. It's known for its rich, nutty taste and versatility.
How can I use Teel Chutney in my meals?
Teel Chutney is highly versatile. You can use it as a dip for snacks, a spread for bread, or a flavorful addition to rice and curries. It can elevate the taste of various dishes.
Is Teel Chutney vegan and gluten-free?
Yes, Teel Chutney is typically vegan and gluten-free. It's made from sesame seeds and spices, without the use of animal products or gluten-containing ingredients.
What are the health benefits of Teel Chutney?
Teel is a good source of essential nutrients like calcium, iron, and healthy fats. Teel Chutney can potentially support bone health, provide iron, and offer a dose of heart-healthy fats.
How should I store Teel Chutney to keep it fresh?
To maintain the freshness and flavor of Teel Chutney, store it in an airtight container in a cool, dry place. Avoid exposing it to moisture or direct sunlight.
Ingradient
Sesame Chutney Ingredients
• Sesame
• Red Chilli
• Dry Coconut
• Iodised Salt
Recipe
Til Chutney Recipes
Generously spread ghee on a roti or paratha, sprinkle Katdare teel chutney over it, roll the roti, and enjoy as a quick snack or for a nutritious breakfast and supper. You can also add teel chutney over buttered khakra for a tasty snack with your evening tea. Add a bit of ghee or oil to the chutney to make your dishes even more delicious. This is a great accompaniment to idlis and dosas as well.