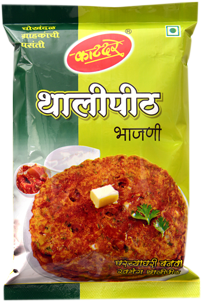 Thalipeeth Bhajani (थालीपीठ भाजणी) or flatbread is a traditional Maharashtrian multi-flour delicacy commonly made for breakfast or supper. buy Katdare thalipeeth bhajani for instant thalipeeth dough and make yummy thalipeeth in no time. Pair it with curd or chutney for a wholesome meal.
Shelf life: 6 months

Product Description
About Thalipeeth Bhajani
Thalipeeth is easy to prepare, light on the stomach, and yet, filling. Katdare thalipeeth bhajani is made from a centuries-old recipe that gives you an authentic taste effortlessly.
Why Buy Katdare Thalipeeth Bhajani Online?
Prepared by dry roasting and grinding lentils, bhajani thalipeeth is a healthy meal that is also easy on the digestive system. It is a good source of protein and dietary fiber. You can use this instant flour to make thalipeeth or wada. Keep a stock of bhajani in your kitchen and you can whip up tasty thalipeeths any day. Experience the Authentic Taste of Thalipeeth Bhajani from Katdare. Order थालीपीठ भाजणी for a Flavorful Journey!
Offers and Additional Information
Katdare thalipeeth bhajani comes in convenient packs of 500gm and 200gm each. The shelf life is 6 months. You can store this in an airtight container once opened.
FAQ
FAQ's About Katdare Thalipeeth Bhajani
What is Thalipeeth Atta made of?
The thalipeeth bhajani is made from the powder of various lentils and grains like Bengal gram, black gram, rice, wheat, sorghum, and millet.

Why is it called Thalipeeth?
The name Thalipeeth comes from the method of pressing the flatbread with the fingers and shaping it on a plate (thali) or on the pan.
Is Thalipeeth good for health?
Ingredients like Bengal gram, black gram, and sorghum that constitute the bhajani are highly nutritious and great sources of fiber, protein, and complex carbohydrates. In addition to this, a thalipeeth is not fried which makes it even healthier.
How to make thalipeeth bhajani?
Thalipeeth bhajani is made by dry roasting certain grains and lentils and then grinding them to make flour. This flour is used to make the dough while preparing the thalipeeth. Katdare thalipeeth bhajani brings to you readymade thalipeeth atta so that you don't need to roast or grind anything, saving you a lot of time and effort in the kitchen.
Ingradient
Rice
Sorghum
Wheat
Millet
Black gram
Bengal gram
Recipe
Bhajani Thalipeeth Recipe
Katdare thalipeeth bhajani makes the preparation of thalipeeth or wada super easy.
In a bowl, add Katdare thalipeeth bhajani, along with grated potato, chopped green chilies or red chili powder (depending on your preference), roasted groundnuts, and salt. Mix these well and add water a little at a time to make the dough.
Grease a non-stick pan with ghee, place a portion of dough on it, and flatten it in the desired shape with your hand.
Make some holes in the flattened dough with your fingers and add ghee into them. Cook the thalipeeth on low heat till it is brown on one side. Flip it and cook on the other side for a few minutes till it is brown as well.
Repeat the process with all portions of the dough. You may add chopped coriander if you like. Sliced onions are also optional.
Serve hot with curd or any chutney.