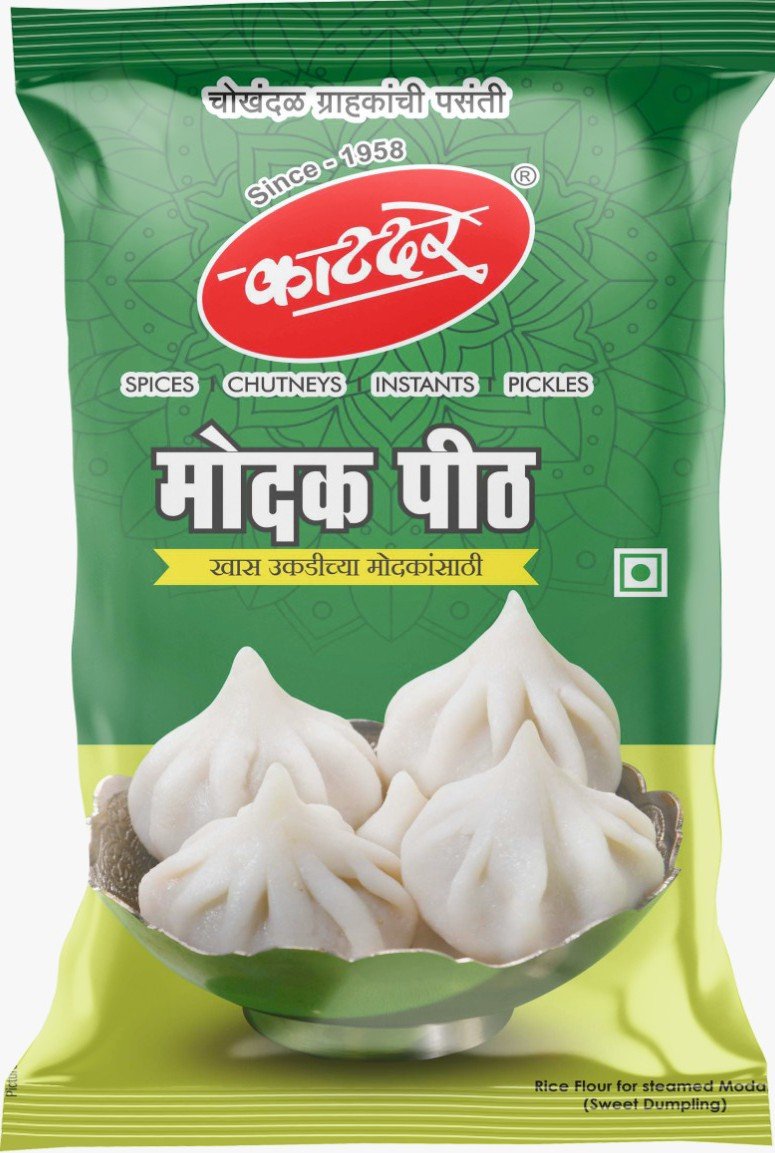 Katdare Modak Peeth
Buy Katdare modak peeth online or offline to make delicious, soft modaks easily at home. Traditional ukadiche modak, primarily made for Ganesh festival and for other religious offerings, is everyone's favorite. They call for rice flour dough or kneadable dough made from Katdare modak flour. Katdare modak peeth is made from the best quality rice and ground to perfection so that you get the tastiest modaks every time. The modak peeth by Katdare is 100% vegetarian and has a shelf life of 6 months.
Product Description
About Modak Peeth (Modak Flour)
Modaks are a traditional sweet delicacy found in almost every Maharashtrian household during the Ganesh festival. Katdare modak flour is an essential ingredient in your kitchen if you wish to make yummy modaks in less time. Forget about soaking and grinding rice. You can make rice flour dough quickly using Katdare Modak Peeth and enjoy more time enjoying the modaks with your loved ones than you do making them.
Why Katdare Modak Flour?
Katdare modak flour is produced in a clean, hygienic environment and ground to the perfect colour and consistency to give you delicious modaks everytime you make them.
Unlike some brands in the market that sell rice flour mixed with different additives, Katdare modak peeth has no added maida or any colours and preservatives. Using Katdare modak peeth is not only healthy but also pure and unadulterated; so that you can use it worry-free for modaks offered to the Lord.
Katdare modak flour is multi-purpose. As the main ingredient is rice, this flour can be used to make other dishes like bhaakri, ghaavan, or neer dosa too; apart from ukadiche modak.
Offers and Additional Information
Katdare Modak peeth is available in convenient packs of 200gms and 500gms each. It can be stored in an airtight container and refrigerated once the packet is opened.
Recipe
Modak Flour Recipes
Use Katdare modak flour to make super soft modak dough and quick modaks each time. Katdare modak peeth price is reasonable. Since making delicious modaks is easy with Katdare's flour, you can make more modaks using it at home than you would be able to buy outside for the same price.
'Ukadiche modak' are traditional sweet dumplings made of rice flour with a filling of shredded coconut and jaggery inside. And here's how you can use Katdare's modak flour to make easy, yummy modaks in no time.
Make the modak stuffing by grating equal quantities of fresh coconut and jaggery. Cook both together in a pan and then let the mixture cool down. Set aside for later.
Add Katdare modak flour to boiling water that has a small spoon of ghee added to it. Mix the modak peeth well and leave it in the pan for a few minutes after the flame is switched off. Transfer it to a plate and knead the dough properly till it is soft.
Make balls out of the dough. To make the dumplings, flatten each ball to a disc or bowl-like shape with your palm. Use a little ghee if required.
Place a little quantity of the premade coconut and jaggery stuffing in the center of the modak, press all the modak edges together and close the dumpling. Readymade modak moulds are also available in the market that can give you the perfect shape. But if you don't have them, modaks can be easily shaped by hand and there are many Youtube tutorials that show you how to mold themes easily.
Steam the prepared modaks for about 15mins on medium flame. This can be done in a pan over a pot of boiling water or by using a steamer.
Additional tips –
Add a little warm water while kneading the dough if it seems too dry.
Cover the modaks with a moist muslin cloth while rolling and shaping to avoid drying and cracking the dumplings.