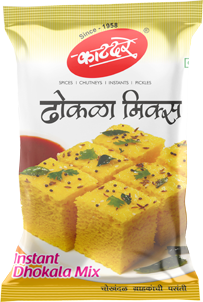 Katdare Dhokala Peeth
Katdare Dhokala Peeth is an instant mix for preparing the popular Gujarati snack, dhokla. The peeth is made with high-quality ingredients and contains no artificial flavors or preservatives. It is easy to use and can be prepared quickly, making it an ideal option for busy households. The peeth comes at an affordable price, making it a budget-friendly option for those who enjoy snacking. With Katdare Dhokala Peeth, anyone can enjoy the delicious taste of homemade dhokla without any hassle.
Shelf Life : 4 Month
Product Description
About Instant Dhokla Pith
Dhokla Peeth, also known as Dhokla flour or Besan, is a crucial ingredient in making the famous Gujarati snack, Dhokla. It is made from finely ground Bengal gram or chana dal and is rich in protein and fiber. Competitor websites and links provide information on the different types of dhokla, including Khaman dhokla and Instant dhokla, as well as their preparation methods.
Why Buy Katdare Instant Dhokla Pith Online?
Quick and easy to use: Instant dhokla pith is convenient and easy to use, requiring no soaking or grinding like traditional dhokla pith.
Consistent quality: Instant dhokla pith provides consistent and reliable results, ensuring that your dhoklas turn out perfectly every time.
Versatile: The instant dhokla pith can be used to make a variety of dhokla recipes, including khaman dhokla, nylon dhokla, and rava dhokla.
Natural ingredients: Katdare's instant dhokla pith may contain natural and healthy ingredients such as gram flour, semolina, citric acid, and baking soda.
Cost-effective: Using an instant dhokla pith can be more cost-effective than buying pre-made dhoklas or preparing traditional dhokla pith from scratch.
FAQ
FAQs about Instant Dhokla Pith
What is dhokla pith made of?
Dhokla pith is made of fermented rice and chickpea flour mixed with spices and water.
What is the difference between dhokla pith and khaman pith?
Dhokla pith is typically made with a mixture of rice and chickpea flour, while khaman pith is made only with chickpea flour. Dhokla is also steamed and cut into squares, while khaman is typically served in a circular shape.
Is dhokla pith healthy or unhealthy?
Dhokla pith is generally considered a healthy option, as it is low in calories, high in protein, and gluten-free. However, the added spices, oil, and chutney can affect its overall nutritional value.
What is white dhokla made of?
White dhokla, also known as idada, is made from a mixture of rice and urad dal (black lentils) instead of chickpea flour, and is typically not fermented.
Ingradient
Instant Dhokla Pith Ingredients
Besan (gram flour)
Sooji (semolina)
Baking powder
Citric acid or lemon juice
Salt
Sugar
Water
Oil